Z1
Visualizing neutrophils in context
Image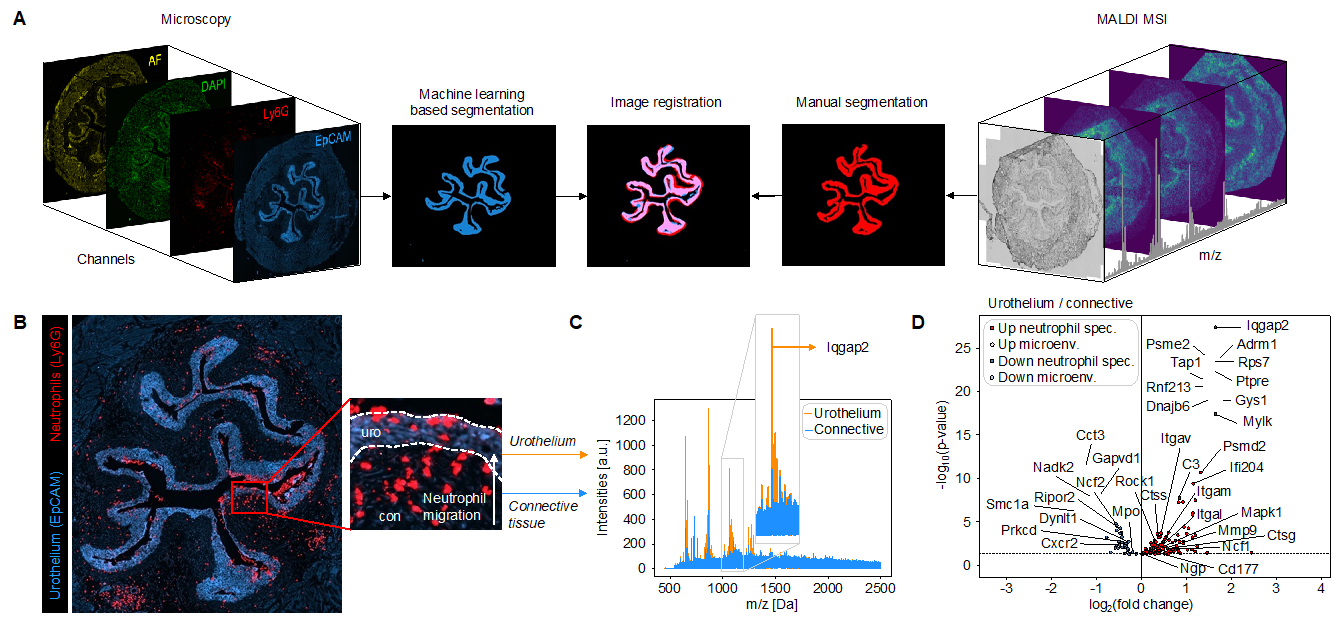 Context-dependent neutrophil production, fate, migration and function is a central scientific question of this collaborative initiative. Using state-of-the-art imaging approaches, such as MALDI MSI and multiplex microscopy, in combination with innovative bioinformatics algorithms for the registration and analysis of the imaging data sets, we will here provide a powerful platform for all partner sites to visualize and analyse context-dependent neutrophil biology.
Team
Publications
Soehnlein, O.; Döring, Y.
2023 European Heart Journal
Zec, K.; Thiebes, S.; Bottek, J.; Siemes, D.; Spangenberg, P.; Trieu, D. V.; Kirstein, N.; Subramaniam, N.; Christ, R.; Klein, D.; Jendrossek, V.; Loose, M.; Wagenlehner, F.; Jablonska, J.; Bracht, T.; Sitek, B.; Budeus, B.; Klein-Hitpass, L.; Theegarten, D.; Shevchuk, O.; Engel, D. R.
2023 Front. Immunol.
Bourceau, P.; Geier, B.; Suerdieck, V.; Bien, T.; Soltwisch, J.; Dreisewerd, K.; Liebeke, M.
2023 Nat Protoc
Groba, S. R., & Soehnlein, O. 
2023 Journal of Hepatology.
Bessler, S.; Soltwisch, J.; Dreisewerd, K.
2023 Anal. Chem.
Gatsiou, A.; Tual-Chalot, S.; Napoli, M.; Ortega-Gomez, A.; Regen, T.; Badolia, R.; Cesarini, V.; Garcia-Gonzalez, C.; Chevre, R.; Ciliberti, G.; Silvestre-Roig, C.; Martini, M.; Hoffmann, J.; Hamouche, R.; Visker, J. R.; Diakos, N.; Wietelmann, A.; Silvestris, D. A.; Georgiopoulos, G.; Moshfegh, A.; Schneider, A.; Chen, W.; Guenther, S.; Backs, J.; Kwak, S.; Selzman, C. H.; Stamatelopoulos, K.; Rose-John, S.; Trautwein, C.; Spyridopoulos, I.; Braun, T.; Waisman, A.; Gallo, A.; Drakos, S. G.; Dimmeler, S.; Sperandio, M.; Soehnlein, O.; Stellos, K.
2023 Immunity
Spangenberg, P.; Hagemann, N.; Squire, A.; Förster, N.; Krauß, S. D.; Qi, Y.; Yusuf, A. M.; Wang, J.; Grüneboom, A.; Kowitz, L.; Korste, S.; Totzeck, M.; Cibir, Z.; Tuz, A. A.; Singh, V.; Siemes, D.; Struensee, L.; Engel, D. R.; Ludewig, P.; Nascentes Melo, L. M.; Helfrich, I.; Chen, J.; Gunzer, M.; Hermann, D. M.; Mosig, A. 
2023 Cell Reports Methods
Anisimov, A.; Fang, S.; Hemanthakumar, K. A.; Örd, T.; van Avondt, K.; Chevre, R.; Toropainen, A.; Singha, P.; Gilani, H.; Nguyen, S. D.; Karaman, S.; Korhonen, E. A.; Adams, R. H.; Augustin, H. G.; Öörni, K.; Soehnlein, O.; Kaikkonen, M. U.; Alitalo, K.  2023, 1–15.
2023 Nat Cardiovasc Res
Pan, C.; Herrero-Fernandez, B.; Borja Almarcha, C.; Gomez Bris, R.; Zorita, V.; Sáez, A.; Maas, S. L.; Pérez-Olivares, L.; Herrero-Cervera, A.; Lemnitzer, P.; van Avondt, K.; Silvestre-Roig, C.; Gonzalez-Granado, J. M.; Chevre, R.; Soehnlein, O.
2023 Circulation
Ferraro, B.; Giustetto, P.; Schengel, O.; Weckbach, L.; Maegdefessel, L.; Soehnlein, O.
2023 Thromb Haemost
Mauersberger, C.; Sager, H. B.; Wobst, J.; Dang, T. A.; Lambrecht, L.; Koplev, S.; Stroth, M.; Bettaga, N.; Schlossmann, J.; Wunder, F.; Friebe, A.; Björkegren, J. L. M.; Dietz, L.; Maas, S. L.; van der Vorst, E. P. C.; Sandner, P.; Soehnlein, O.; Schunkert, H.; Kessler, T.
2022 Nature Cardiovascular Research
Van Avondt, K.; Strecker, J.-K.; Tulotta, C.; Minnerup, J.; Schulz, C.; Soehnlein, O.
2022 Immunological Reviews
Soehnlein, O.; Tall, A. R.
2022 Nature Reviews Cardiology
Sohrabi, Y.; Reinecke, H.; Soehnlein, O.
2022 Signal Transduction and Targeted Therapy