B2
Neutrophil modulation during cerebral ischemia by the nuclear receptor NR4A1
Image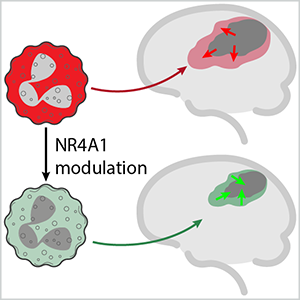 Sterile inflammation upon cerebral ischemia is accompanied by immune cell infiltration. Neutrophils exert a crucial role within the inflammatory response and finally on neuronal damage via interaction with other immune cells of the innate and adaptive immune system. However, unselective blockade of brain neutrophil infiltration has so far been unsuccessful in clinical studies. We hypothesize that neutrophils are differentially modulated in the context of stroke, that the nuclear receptor NR4A1 is critically involved and that pharmacological modulation of NR4A1 opens the possibility of a fine-tuned therapeutic intervention.
Team
Publications
Russo, A.; Schürmann, H.; Brandt, M.; Scholz, K.; Matos, A. L. L.; Grill, D.; Revenstorff, J.; Rembrink, M.; von Wulffen, M.; Fischer-Riepe, L.; Hanley, P. J.; Häcker, H.; Prünster, M.; Sánchez-Madrid, F.; Hermann, S.; Klotz, L.; Gerke, V.; Betz, T.; Vogl, T.; Roth, J.
2022 Advanced Science
Van Avondt, K.; Strecker, J.-K.; Tulotta, C.; Minnerup, J.; Schulz, C.; Soehnlein, O.
2022 Immunological Reviews