A3
Identification of a molecular signature that influences neutrophil migration and function in urinary tract infection during chronic lymphocytic leukaemia
Image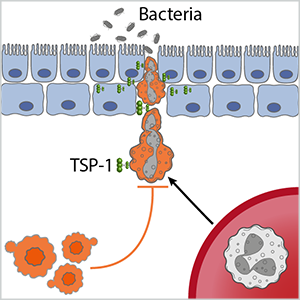 Neutrophils are very important leukocytes for the acute control of urinary tract infection (UTI). However, patients that suffer from chronic lymphocytic leukaemia (CLL) are highly susceptible to bacterial infection, such as UTI. Here, we will use models that combine CLL and UTI and will evaluate molecules that affect neutrophil migration and function and predispose to severe bacterial infections in CLL.
Team
Publications
Zec, K.; Thiebes, S.; Bottek, J.; Siemes, D.; Spangenberg, P.; Trieu, D. V.; Kirstein, N.; Subramaniam, N.; Christ, R.; Klein, D.; Jendrossek, V.; Loose, M.; Wagenlehner, F.; Jablonska, J.; Bracht, T.; Sitek, B.; Budeus, B.; Klein-Hitpass, L.; Theegarten, D.; Shevchuk, O.; Engel, D. R.
2023 Front. Immunol.
Spangenberg, P.; Hagemann, N.; Squire, A.; Förster, N.; Krauß, S. D.; Qi, Y.; Yusuf, A. M.; Wang, J.; Grüneboom, A.; Kowitz, L.; Korste, S.; Totzeck, M.; Cibir, Z.; Tuz, A. A.; Singh, V.; Siemes, D.; Struensee, L.; Engel, D. R.; Ludewig, P.; Nascentes Melo, L. M.; Helfrich, I.; Chen, J.; Gunzer, M.; Hermann, D. M.; Mosig, A. 
2023 Cell Reports Methods
Bouvain, P.; Ding, Z.; Kadir, S.; Kleimann, P.; Kluge, N.; Tiren, Z.-B.; Steckel, B.; Flocke, V.; Zalfen, R.; Petzsch, P.; Wachtmeister, T.; John, G.; Subramaniam, N.; Krämer, W.; Strasdeit, T.; Mehrabipour, M.; Moll, J. M.; Schubert, R.; Ahmadian, M. R.; Bönner, F.; Boeken, U.; Westenfeld, R.; Engel, D. R.; Kelm, M.; Schrader, J.; Köhrer, K.; Grandoch, M.; Temme, S.; Flögel, U.
2023 Nature Cardiovascular Research